The future of public trust in times of uncertainty
Monday 21st and Tuesday 22nd March 2022 | Online
Register now – participation is free of charge.
While science communication may be more important than ever, it is also more challenging. We live in a time of uncertainty that challenges established relationships between science, media, publics and politics. Science is openly contested in the public arena by actors that at best raise doubt and at worst respond antagonistically to scientific practice. Efforts to shift towards a new science communication ecosystem, one that is more adaptive and at the same time reliable and trustworthy, have been at the heart of both the RETHINK and TRESCA project.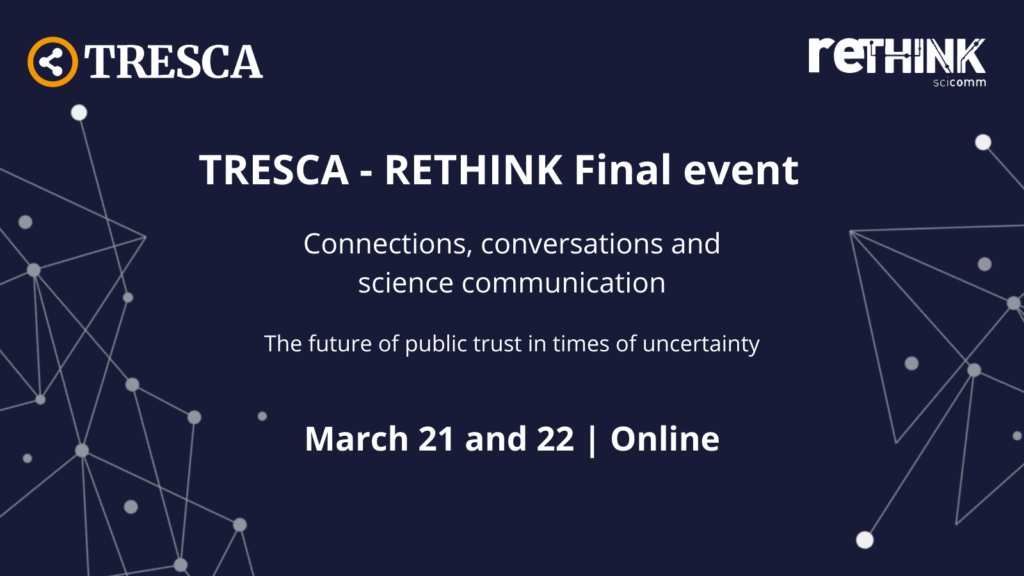 This final conference culminates the efforts of these projects to highlight ongoing conversations between scientists, policy makers, media and science communication practitioners and a variety of publics. The conference focuses on how we can strengthen the connections between various stakeholders and publics in order to more effectively respond to current and future uncertainties. We look towards a future in which science becomes more a point of connection than one of polarisation. In a series of keynotes, panels, and engaging conversations, we will discuss and co-create how science communication as a practice can build towards public trust – by making new connections and shaping the conversations that matter.
Participation is free of charge. Register now to join us.
Day 1, 21st March 2022, 13:30 – 17:00 CET | Online
Chair: Jason Pridmore, Erasmus University Rotterdam, NL
Keynote speaker: Deborah Blum, Director, Knight Science Journalism Program at Massachusetts Institute of Technology: "Journalism in the Age of Mistrust: Lessons from the Covid-19 Pandemic"
Panel 1: Forging connections with new audiences in times of polarisation and misinformation

Moderator: Emma Weitkamp, University of the West of England, UK
Andy Ridgway, University of the West of England, UK
Vanessa Mignan Jenkins, Independent consultant and trainer, FR
Sara Degli Esposti, Spanish National Research Council, ES
Annette Leßmöllmann, Karlsruhe Institute for Technology, DE

Panel 2: #LegitScience: challenges and opportunities in doing effective science communication on social media

Moderator, Diane Jeanblanc, Science|Business, BE
Jing Zeng, University of Zurich, CH
Lizzy Steib, Kurzgesagt, DE

Fireside chat: Michael Arentoft, DG Research, European Commission
Day 2, 22nd March 2022, 9:30 – 13:30 CET | Online
Chair: Frank Kupper, VU Amsterdam, NL
Keynote speaker: Dr. Elizabeth Rasekoala, President, African Gong – The Pan African Network for the Popularization of Science & Technology and Science Communication: "Rethinking public trust in science communication: paradigm shifts in transformation, reflection and practice"
Panel 3: Transformation and reflection: how can reflective practice help us adapt to current complexities?

Moderator: Frank Kupper, VU Amsterdam, NL
Tessa Roedema, VU Amsterdam, NL
Elisabetta Tola, Formicablu, IT
Joseph Roche, Trinity College Dublin, IE

Panel 4: The future of public trust: what role for policy?

Moderator: Pamela Bartar, Centre for Social Innovation (ZSI), AT
Peter Hylgard, Danish Board of Technology, DK
Birte Fähnrich, German Federal Ministry of Education and Research, DE
Gabor Szüdi, Centre for Social Innovation (ZSI), AT