Online workshop series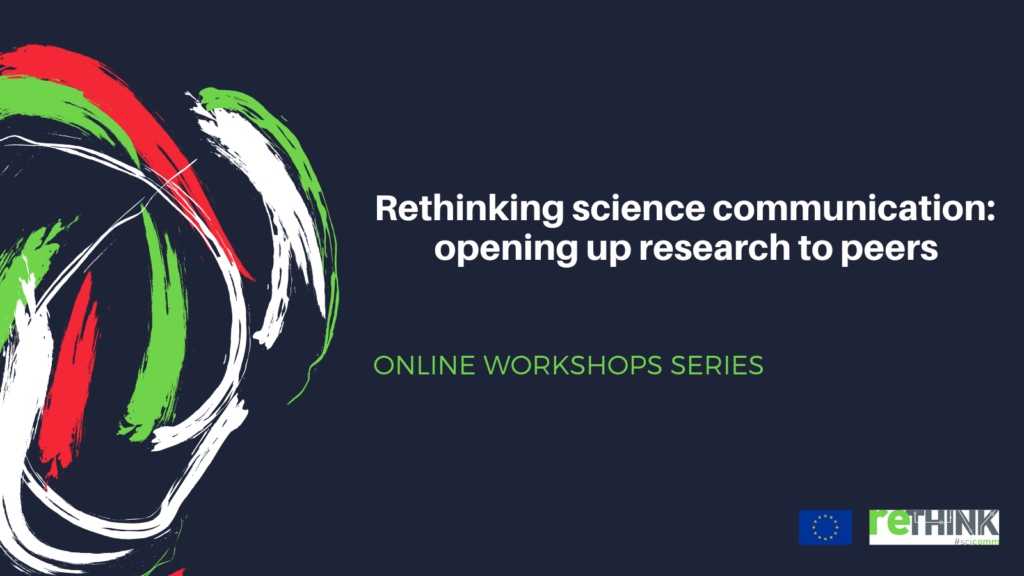 This online workshop series is aimed at engaging the community of science communication professionals and scholars in order to reflect on the latest research outcomes together. This is a great opportunity to hear more about the latest research findings in the field and to meet and reflect together on the most useful tools for the community. There will be lots of interaction, digital post-its and an ambition for shared outcomes. Join us to become our critical friend.
#3 Connecting with Underserved Audiences: Creating Conversations and Trust
It is now well-documented that when science is communicated, audiences are most typically white, affluent, with relatively high levels of formal education and a pre-existing interest in science. But how can we challenge that in our practices and as a sector? Join two members of the RETHINK team, Andy Ridgway and Clare Wilkinson, to explore the approaches and roles being adopted by some of today's science communicators that may help to foster connections with new or underserved audiences. And in collaboration with Vanessa Mignan, take the opportunity to explore your own practices and intentions when seeking to engage inclusively and innovatively.
Led by Andy Ridgway, Dr Clare Wilkinson – University of the West of England
29 September 2021, 2:00 – 4:00 p.m. CET

Video recording available below
#2 Good quality science communication in a digital world
The so called infodemic around Covid 19 and the rise of misinformation has raised once more the need for quality science communication. However, the demands for "quality science communication" leave the question of what this actually means unanswered.
Questions arise, such as: what is good science communication online? Are there criteria to assess science communication quality? And how do they differ when we compare, for instance, science media reporting, science podcasts or scicomm stories on Instagram, to name but few examples?
The workshop aims to address these questions in a discursive way. To this end, we will present results from a Delphi study that explored issues around quality in science communication in digital contexts. In the course of the study approx. 30 science communication scholars from around the globe shared their perspectives on how to assess and how to promote science communication quality online.
This workshop will provide an opportunity to hear about the research findings and discuss their implications. We anticipate focusing particularly on how quality criteria could be applied by actors ranging from university press officers to bloggers. All of whom are increasingly prevalent in the digital sphere.
Led by Dr Emma Weitkamp – University of the West of England, Dr Birte Fähnrich – Zeppelin University
10 May 2021, 14:00 – 16:00 CET

Video recording available below
#1 Making sense of (mis)information in a digital world
The first workshop will look at the research results related to how insights into sensemaking could help us deal with the abundance of fragmented, incomplete and sometimes misleading information. We will present the results of 7 European workshops with science communicators that explored the issue of making sense of the COVID-19 pandemic. How science communicators can adapt to the reality of sensemaking practices to support dialogue about the pandemic? And how can we support each other to move forward? All of these and other questions will be explored in an interactive workshop aimed at sharing best practices and inspiring future research activities.
Led by Dr Frank Kupper, Virgil Rerimassie, Tessa Roedema – Vrije Universiteit Amsterdam