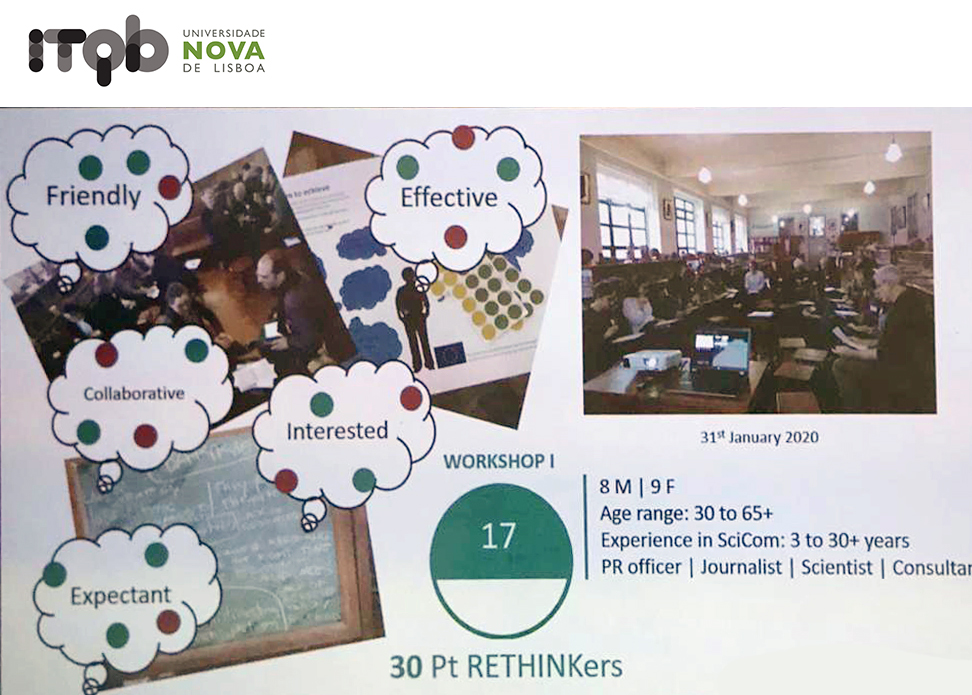 WORKSHOP #1 The first Portuguese Rethinkerspace meeting was held at the beautiful Instituto Superior Técnico Geosciences museum, designed in the early 20th century as a support to geological classes for the Portuguese engineers. The collection is magnificent, and the director was very welcoming and also an active player in the discussions.
Having set the scene in such a scenario, and serving coffee as soon as people arrived, set the tone for what would be a wonderful half-day together. The feeling of being around colleagues that you have so much in common with created a strong bond, that lasted many months to follow and resulted in very interesting new alliances.
Our team composed of Ana Sanchez, João Gaspar and myself (Joana Lobo Antunes) had a good time managing the challenges and the schedule, with so many interesting inputs from scientists, journalists, communication officers and educators from science centers and museum. It was a pleasure just to watch them agree, disagree, exchange arguments and discuss on the best angles and approaches. We had to reassure them all it was just the beginning of our journey, a journey to discover new knowledge and gems, and as we all learned with Indiana Jones – that belongs in a museum.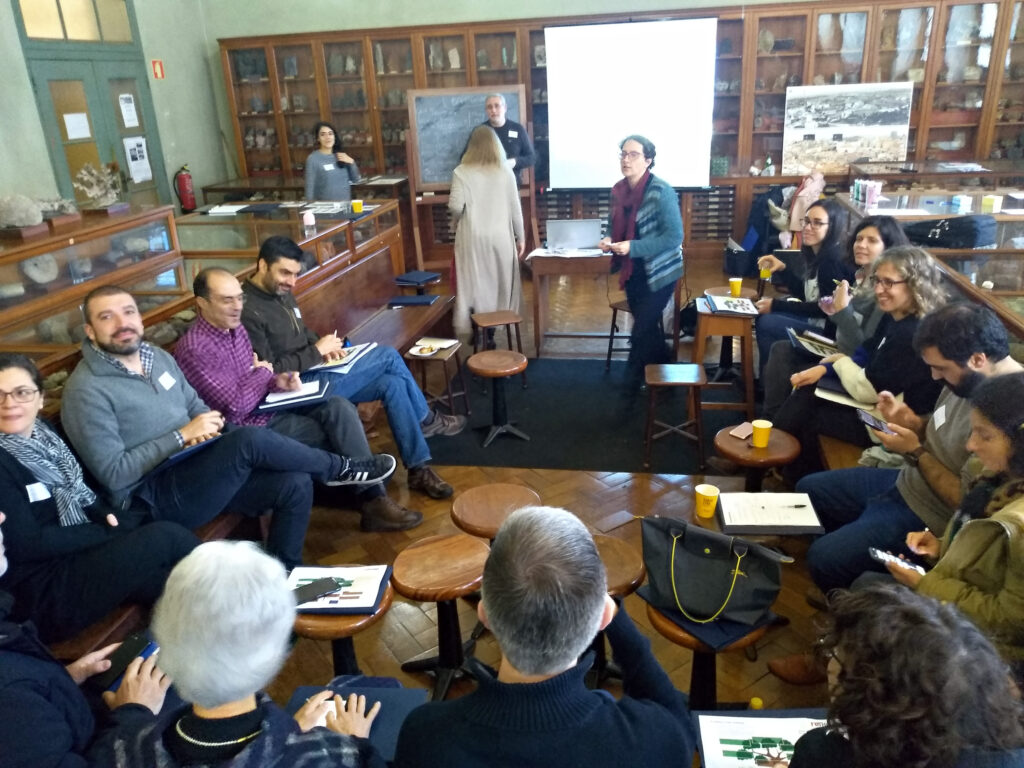 ---
WORKSHOP #2 (held in two sessions). Despite the challenges of this new online way of life, Rethinkerspace workshops on quality and sensemaking were a good opportunity to bring together once again some of the Portuguese scicomm community members, listen and share their bright ideas and takes on sensemaking and quality. Miro boards proved to be a great tool to write them down. The juicy discussions require more time and some follow-up would be useful.
Sensemaking protocols and interviews were seen as a very powerful tool to understand individuals. With no surprises, quality criteria are very diverse and hard to categorize or rank and reflect the complexity and diversity of scicommers and targeted audiences.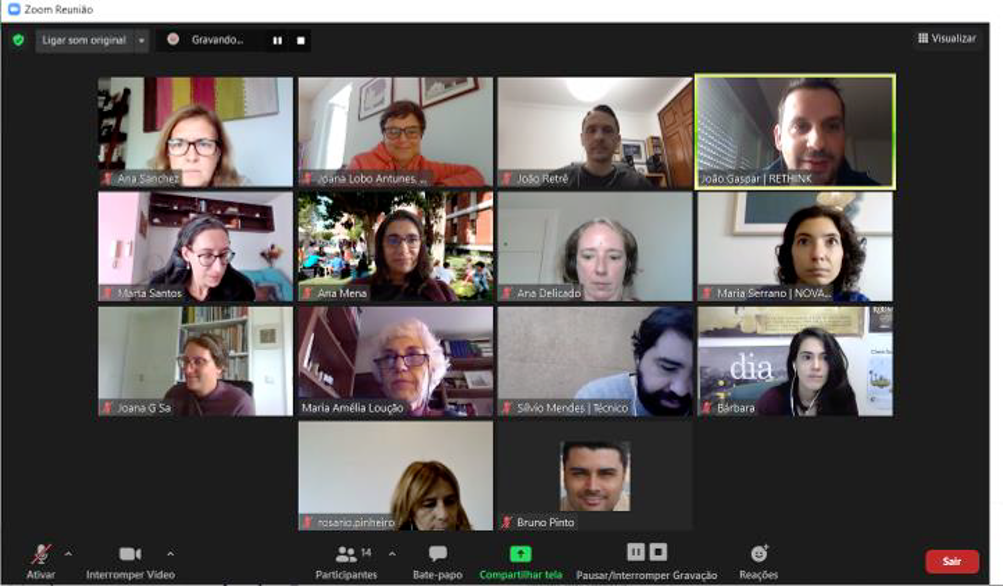 ---
WORKSHOP #3 (July 15th, 2021). RETHINKERSPACE members reflected on the identified challenges and discussed about their challenging practices. They all agreed that the covid pandemic, lockdowns, the social environment and the information overload are extra-challenges to the regular practice of scicomm. It became harder to reach general audiences and deal with misinformation. «One of the greatest challenges was the information overload, hard to cope with (mask use, for instance). The uncertainty increased science mistrust» (CL, scicomm researcher).
Overall, RETHINKERSPACE members were very grateful for the time and availability for such a good and important debate. They all considered that we need to keep a space where we can meet more often and share experiences and anguishes. And it's also consensual that we must involve more citizens in our own reflection even within the professional community. "Many important aspects. One that I would highlight: the importance of maintaining an open and encouraging dialogue with *everyone* (as we encourage children when they give a wrong answer)."
---
WORKSHOP #4 Rethinkerspace members reflected on what they have learned along the way and brainstormed on what their individual and collective outputs can be beyond the project.
Overall, Rethinkerpsace members agreed that we need to embrace diversity of audiences, diversity of quality criteria and the difficulty to assess the objectives of good science communication. More individual and qualitative tests are needed to evaluate how we are reaching different audiences.
Rigorous and transparent communication is a fundamental part of the process – as the COVID19 information approach clearly showed, and reflexive practices must be reinforced
---
WORKSHOP #5: Sustainability of Rethinkerspaces
The final event in this series of Rethinkerspace workshops brought together all participants from the seven countries in a unique meeting focusing on experience-sharing, community building and sustainability.
Participants were involved in a series on activities with an emphasis on "speed-travels" to the 7 Rethinskerspace hubs, in which hosts presented the outcomes of their workshops on the main themes of the project: Sensemaking, quality of online science communication, openness and reflexivity and reaching underserved audiences. The hosts also invited the "visitors" from other countries to offer their perspective on the issues addressed.
These were the issues that were discussed extensively.
Scientists involved in research are failing to understand and/or value science communication.
Mainstream journalists are lacking the necessary scientific knowledge.
Audiences are wide and diverse, with those involved in science communication finding difficult to locate their particular audiences and knowing what their audiences are seeking in terms of scientific information and knowledge.
Science communication must communicate something bigger than information and knowledge: values. And this is probably its greater differentiator from pure science and knowledge transfer.
The role of emotions in how audiences interact with science is too important to be ignored in strict positivistic approaches.