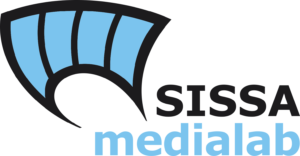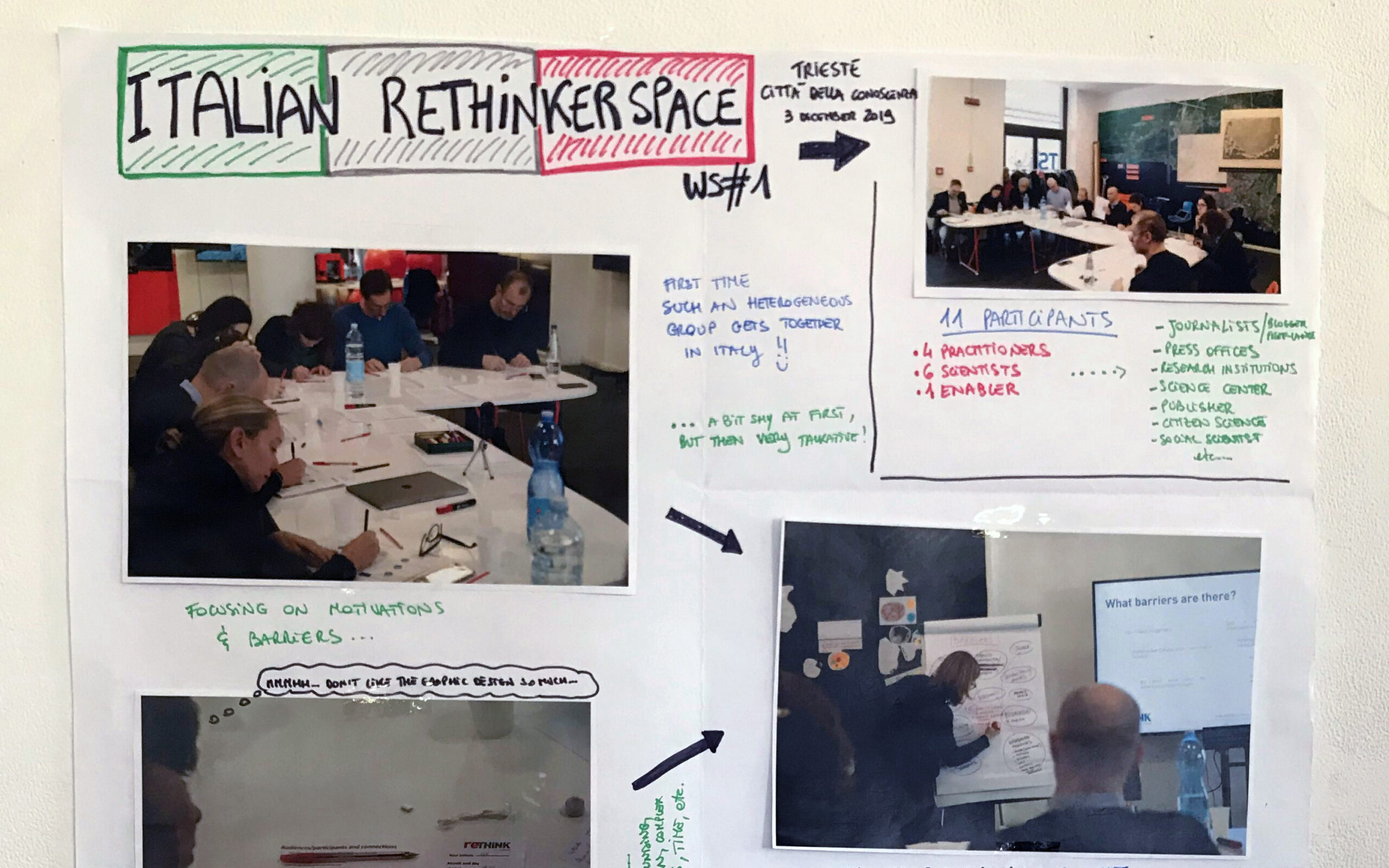 WORKSHOP #1. On this nice sunny day, 11 members of the Italian Rethinkerspace gathered in a small science centre located at the Trieste train station. Apart from a few lucky citizens who missed their train and were wondering what was happening in the workshop, we were a mix of journalists, researchers and practitioners. Most of the participants knew at least one other person in the room but some were complete newcomers. They really appreciated the opportunity to connect with other scicomm-ers and get out of their comfort zone by connecting to colleagues they don't usually interact with.
One of the most interesting outcomes was the fact that all three groups, without knowing it, have focused on the same challenge. Even though they framed it in a slightly different way (i.e. language, lack of understanding, efficient communication), all groups choose to focus their discussion on the difficulty of understanding between science and society. Another spontaneous and unplanned activity was the gathering of representatives of the two sister projects QUEST and CONCISE in our Italian Rethinkerpsace, which was the first time we all met.
---
WORKSHOP #2 (held in two sessions). The Covid 19 pandemic didn't allow members of the Italian Rethinkerspace to meet in person for the second workshop, but even if online, our enthousiasm and interest were still high. We gathered on Zoom on the 27th of October and the 24th of November to discuss about sensemaking practices and quality of science communication respectively. All participants were interested to find out about citizens' sensemaking of the ongoing COVID-19 crisis and curious to understand how research outcomes that are apparently not directly linked to science communication issues, but rather to personal experiences, can be useful in the way they communicate about this topic.
Most of us were intrigued to find out that citizens, when asked to share their experience of key moments related to the coronavirus pandemic, did bearly focus on scientific information (or sources of information) related to what was happening, but turned to family and professional issues. As for the discussion about ways of measuring the quality of science communication within digital environments, participants focused on the importance of reliable sources of information, but also on ways to address uncertainty that is often intrinsic to research and innovation processes.
---
WORKSHOP #3: (June 8th, 2021) Overall, the workshop went very well, fully achieving its main objectives: exploring the role of openness and reflexivity in the practice of scicomm, discuss together the results and the experiences of the three members that had been part of the reflective experiments and have participants come up with new ideas on how to put openness and reflexivity at work in their own scicomm practice. "True openness and reflexivity cannot only happen on a personal level but to be truly effective it should happen on a collective, practical level. Science is a collective practice of making sense, so it should include collective processes of reflexivity. Only the relationship with what's different from me, with different points of view, can facilitate reflexivity."
All participants brainstormed a lot and actively participated to the discussion and the Miro board. All of them found the idea of keeping a diary useful for their scicom parctice, and said they would test it in the future to grasp its benefits. Some said that the RETHINK workshops are always very interesting, a way of "escaping" their routine research work and dwell on more profound questions.
---